Hello, I'm Dave.
I work on designing products and live in lovely California. I currently work at Lyft as a design manager and in my spare time, I like to bake bread.
A few of my recent projects are below. If you'd like to know more about them or other stuff I've worked on, hit me up on Twitter and let's chat.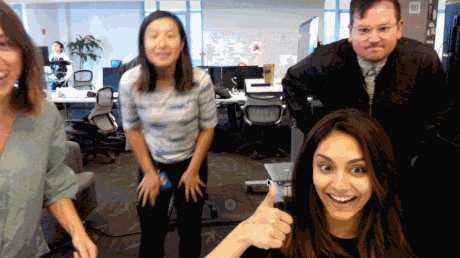 Twitter Mgmt
2015–2016
Design Management

During my last year at Twitter, I had the opportunity to be a design manager and truly enjoyed the role. The designers (a few above) I worked with were talented individuals that held me accountable to make sure they got the most from their career at Twitter, and Twitter got the most from them. Product design at scale can be difficult—even more so in a public forum—and it was my job to make sure my design teams had the resources, information, influence, and partnerships to do great work.
I managed and led six designers across four teams: Onboarding, People Discovery, Direct Messages (DMs), Profiles, as well as a few separate initiatives. The projects we worked on ranged from new feature development and design debt maintenance to long-term strategy planning and iterative improvements.
Twitter Lite
2014–2015
Product Design
Product Management
By 2014, years of native app prioritization had left Twitter's mobile website in a poorly outdated version. With a small engineering team, we identified several opportunities: expand Twitter's reach in emerging markets with a revamped mobile web experience, replace an old tech stack with a reliable and efficient architecture to deliver fast loading pages over low bandwidths, and completely redesign the UI with a componentized approach that allowed for future expansion. Additionally, we had the chance to build a case study for using design systems in our product design process.
Co-leading the design effort with Dave Wright, we aligned our design principles and priorities with engineering so we could work from a shared vocabulary: every byte counts, systematic design and layout, and iteration speed. Dave and I audited the entire site and feature sets, established a new grid and typography, designed responsive components across multiple viewports, and evangelized the project to design and feature teams throughout the process. Together, our goal was to design a clean, component-­based foundation on which feature teams could quickly iterate and build on.
Concurrently, I also took on the role as product manager. My job was to: develop a project roadmap, experiment plan, and rollout strategy; identify and establish baseline metrics for success; coordinate with feature teams and assess their needs for mobile web; and define feature sets needed at launch and in subsequent versions.
I helped launch version 1.0 of the redesign after 1.5 years on the project. In the spring of this year—another 1.5 years later—Twitter Lite launched as a Progressive Web App. The project was a multi-year effort that required close partnerships between engineering, product, design, and a variety of stakeholders. As a result of our team's work, we saw massive increases in engagement across the product.
I'm grateful to have been part of such a large project and proud of the team's accomplishments as they continue to rollout features and improvements.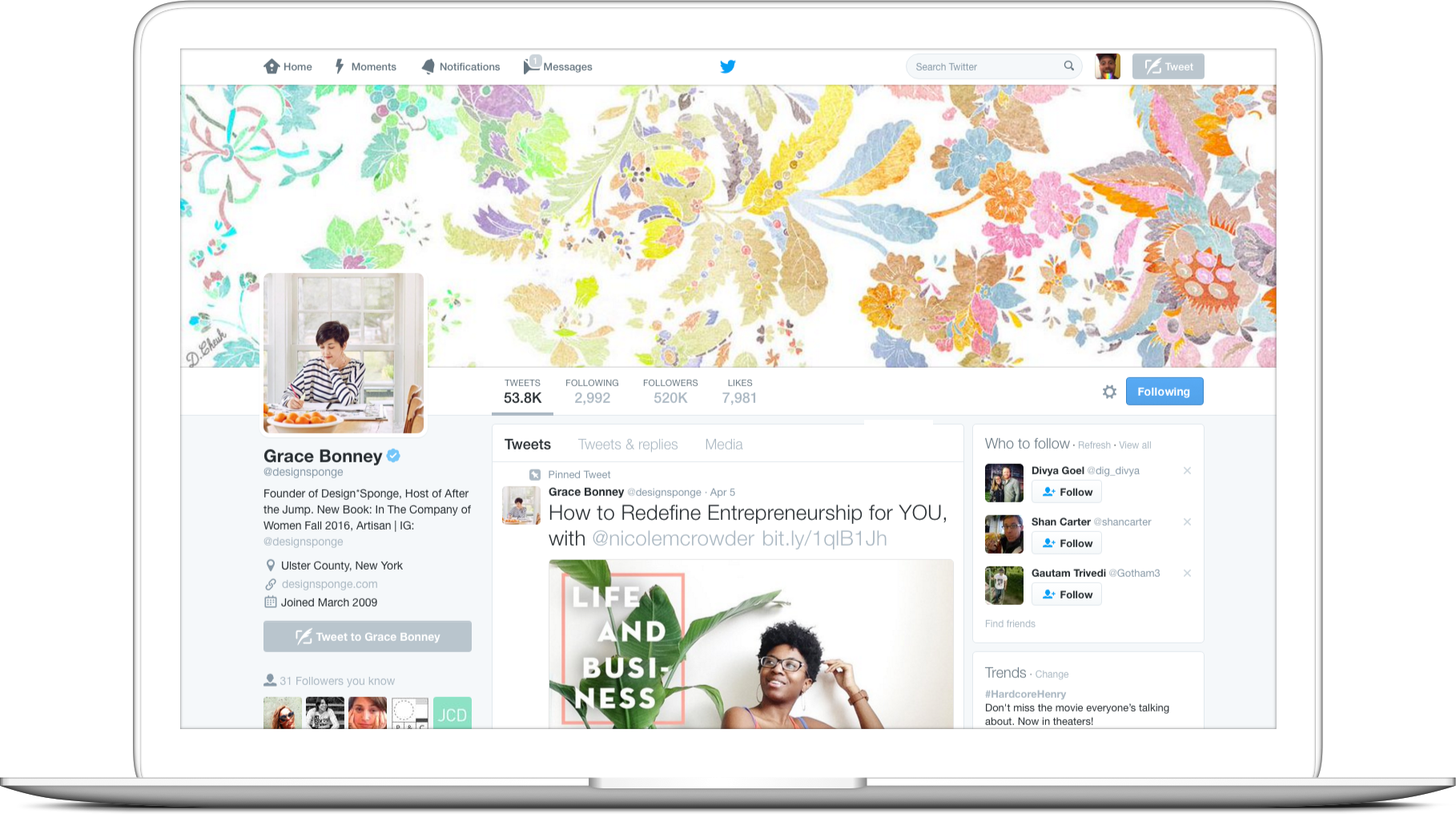 Twitter Profiles
2013–2014
Product design
In a unique position to represent the service and its users to the general public, web profiles are the front door to Twitter, sitting between product awareness and product understanding. In 2013, profile pages were the most heavily trafficked logged-out property on Twitter.com and needed an upgrade from their legacy state.
As design lead on the project, I worked closely with our PM, Sachin Agarwal, to establish project guidelines: make Twitter easier to understand for new users, unlock Twitter as a destination for endless content discovery and consumption; and give profile owners new controls to express themselves no matter what level of expertise or activity. One of the many challenges we faced was to design a profile page template that served a diverse range of user types, from new users, celebrities, and government agencies to heavy users, non-profits, and news organizations.
"Profoundly game changing work. A+"
 – Dick Costolo, Twitter CEO
I started with an audit of our current metrics, analyzed the competition, and catalogued different profile actions and content types. The team also began to test small, potential improvements that could be included in the larger redesign: inline profile editing, media forward Tweets, surface popular Tweets and user activity, and social proof. After early rounds of design, it became clear the current Twitter website—grid system, navigation, backgrounds—constrained the project and a broader redesign was needed.
After further iteration, we communicated our vision to executives in order to gain their support, secure engineering resources, and guide our teammates and stakeholders during the process. Once we had executive buy-in, we got to work to refining our feature set and release schedule, designing, prototyping, testing, evangelizing, iterating—wash, rinse, repeat. Ultimately, our team shipped over 30 updates and new features including: one-click Tweeting for new users, pinned Tweets, media-only Tweets timeline, dynamic Tweet sizing, filtered replies timeline, profile cards, cluster follow suggestions, and improved editing tools.
I cut my product design teeth on this project in so many ways, learning—among other skills—the importance of internal communication, managing expectations, and roadmap coordination.